Screenshots
Selection of AntiSpyware snapshots:
(Click to enlarge)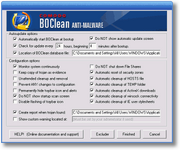 Anti-Trojan
Edit
Before the rise of Anti-spyware, anti-trojans were generally considered the second line of defense after anti-virus. They justified themselves with quality memory scanners, better cleaning abilities and greater focus on none-spreading malware like trojans. Despite this, even at their heyday, there were never very popular and only a handful anti-trojans exist. Just like antispyware, the freeware versions are generally on demand scanners only.
Today, the focus is on antispyware. Besides the line between antispyware and antitrojan is very thin anyway. BoClean (classified as a anti-trojan) has always handled malware that we call spyware. Ewido has gone through many name changes, starting off as an anti-trojan, before changing the name to anti-malware , currently it goes by AVG Antispyware.
You can probably just go with BoClean for real-time protection if you see the need.
Resident scanner
Edit
Comodo BoClean - http://www.comodo.com/boclean/boclean.html

BoClean's selling point is its memory scanner. Currently (June 2007), it has just being bought by Comodo and has become freeware.
On demand scanners
Edit
a-squared Free - http://www.emsisoft.com/en/software/
Ewido (now AVG Anti-Spyware) - http://www.ewido.net/en/ - Ewido Micro Scanner
Nemesis - http://www.usec.at/
Extroyan - http://www.troyan.tk/ - No longer free
SwatIt Anti Trojan and Bot Scanner and Remover http://swatit.org/ Outdated?

Both A-squared Free and Ewido have traditionally being classed in the anti-trojan area. But they target spyware as well of course.
Online Scanners
Edit
This section is no longer updated, For updated list see Online Malware Scanners
A2 squared web scanner http://www.emsisoft.com/en/software/ax/
Windows Security scanner http://www.windowsecurity.com/trojanscan/
For more online scanners see also List of freeware online antispyware scans and List of freeware online antivirus scans
Information Sources
Edit
Illusive security - http://scheinsicherheit.pytalhost.de/introduction.htm
---
Ad blocker interference detected!
Wikia is a free-to-use site that makes money from advertising. We have a modified experience for viewers using ad blockers

Wikia is not accessible if you've made further modifications. Remove the custom ad blocker rule(s) and the page will load as expected.