Firewalls
Edit
Screenshots
Selection of personal firewall snapshots:
(Click to enlarge)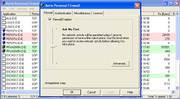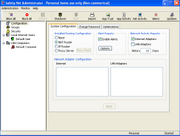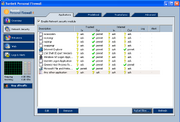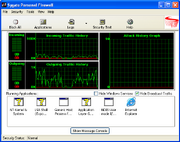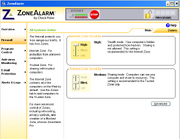 Windows XP SP 2 users already have a built in firewall. However it is limited to only inbound filtering. For non-security purposes, many users prefer to use a personal firewall to control outbound connections as well. In recent years, many of the freeware firewalls were either abandoned (Kerio 2) or companies that produced them were sold (Sygate) and many of the freeware offering are very old outdated products (Outpost Free). Comodo Firewall however bucks this trend. Vista users have the option of just relying on their builtin firewall because it includes outbound filtering , though this is turned off by default.
Many personal firewalls, have moved towards incorporating HIPS features because this is the only way to defeat leak tests. Another option is to combine a solid basic personal firewall with a strong freeware HIPS.

ZoneAlarm is perhaps THE personal firewall that started the trend of using personal firewalls among home users and it is still very popular. It is also currently (July 2007) one of the few freeware firewalls to support Vista. Comodo Firewall Pro is the latest breed of firewall that is designed with defeating leaktests, it is currently (July 2007), the top personal firewall (free and paid) in beating leak tests (opinions differ on how important this is though), although at the cost of being resource heavy and complicated to use. Kerio Personal Firewall 2.15 though no longer developed is a old fan favorite, as it is light weight, stable and has a highly intuitive yet flexible interface. However given it's age it does not handle leak tests very well. Sunbelt Kerio 4 firewall provides some HIPS capabilities with results in better resistant to leak test. However it has a reputable of being buggy, slow and being not user friendly.
Sygate Personal Firewall was a popular firewall however it was bought over. Outpost free is probably the most outdated of the bunch here. Jetico Personal Firewall V1.0 was a first attempt by Jetico to produce a firewall. Besides Comodo it has the best performance for a freeware firewall against leak tests. However it has several quirks, such as not being installed as a service, and a very unconventional interface for firewall rulesets. They have since moved onto version 2 (not free).

Some interesting ones worth trying are Safety.Net,Personal Firewall, SoftPerfect Personal Firewall and PC Tools Firewall Plus - one of the few free personal firewalls that currently(July 07) work in Vista. Another option is Vista Firewall Control, it is a tool to manage the built-in vista firewall.
IP filters
Edit
PeerGuardian 2 - http://phoenixlabs.org/pg2/

These are mostly used for filtering out ip address. See here for [| more blocklists]
Addons for firewalls
Edit
For Outpost 1
Edit
Super Stealth - ARP filtering plug-in - http://www.outpostfirewall.com/forum/showthread.php?s=&threadid=3037
For XP windows firewall
Edit
For Zone alarm
Edit
VisualZone - http://visualize.phenominet.com/
Block lists for Kerio firewall 2
Edit
KPF Splash Screen Killer - http://www.brightnova.com/downloads/KPFSplashKiller.exe
For sygate firewall
Edit
SPF Log Viewer - http://www.geocities.jp/bruce_teller/sygate5/spflgvw_en.htm
Information Sources
Edit
Matousec's Introduction to firewall leak testing - http://www.matousec.com/projects/windows-personal-firewall-analysis/introduction-firewall-leak-testing.php and http://www.matousec.com/projects/windows-personal-firewall-analysis/
Firewall leak tester - http://www.firewallleaktester.com/index.html
---
Ad blocker interference detected!
Wikia is a free-to-use site that makes money from advertising. We have a modified experience for viewers using ad blockers

Wikia is not accessible if you've made further modifications. Remove the custom ad blocker rule(s) and the page will load as expected.